By Stuart Webb | WeaponizedNews.Com | Jan 29, 2015
The United States Treasury has released it's monthly treasury statement for the month of December 2014, which is included in the 2015 fiscal year. The numbers don't look good. While taking in more than $739 billion, the Federal government still spent over $916 billion since October 2014, leaving the public on the hook for another $176 billion, for this year alone. The national debt continues to rise, but that doesn't seem to matter to Congress since over half of our elected representatives are now millionaires. 
You can visit the Bureau of Fiscal Service website and see for yourself. Here is the summary of money taken in, money spent and the debt incurred.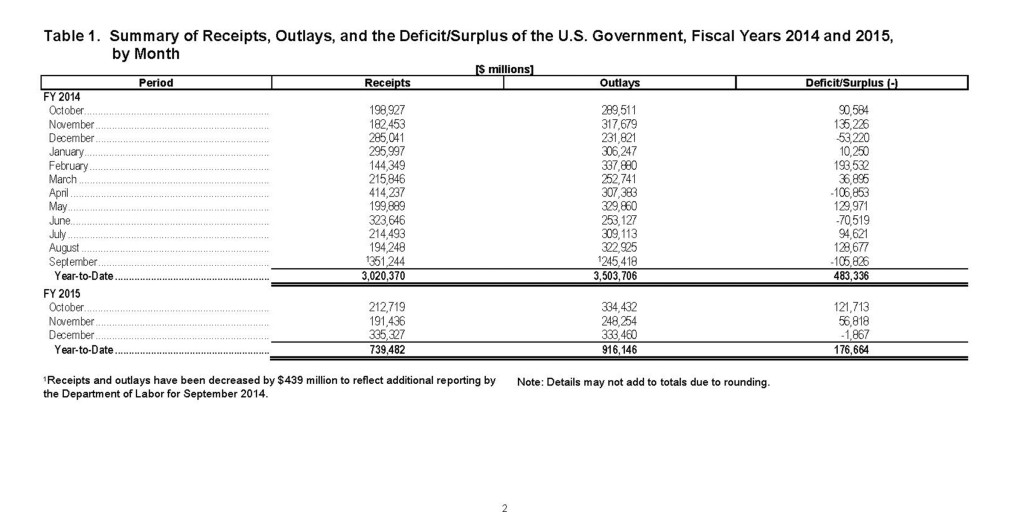 The National Debt of US is over 18 trillion, but President Obama isn't sweating it. It seems that once he was elected, he forgot about the fact that he campaigned staunchly against the irresponsible spending of the previous administration raising the U.S. debt to 9 trillion, stating it was "unpatriotic". Is it acceptable for the debt per citizen to be $56k, when the the United States Congress is made up of millionaires who spend our hard earned tax dollars like it's a drop in the bucket, then complain about the middle class making too much money and how we need to pay them even more money just to breath e.i the carbon tax? I think not.
Click Here to Download MTS Dec 2014 Report!